First there was the 24 Hour Comic. "an annual event where cartoonists around the world each try to create 24 pages of comics in 24 hours." October 20th, 2007
Then there was the 24 Hour Zine Thing.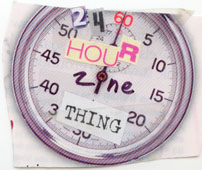 Now there's the 48 Hour Book Challenge. "That special contest that allows you to read guilt-free for as long as you can stand it." It's going on RIGHT NOW.
I love the idea of forgoing the laundry, errands, bathing, etc. to lay around and read for an entire weekend. If I weren't working right now, I'd be participating. I like the idea of finding a couple of different places to read over the course of the two-day period. On the beach, on the deck, lolling around in bed, on the couch, with the cat, at the kitchen table, at a cafe … it feels very hedonistic to me – book porn.